South Park character
Laurie Cunningham
Gender
Female
Hair
brown
Age
9
Job
student
Voiced by
April Stewart
Appearances
First
Double Under Danger
Laurie Megan Cunningham is a girl who goes to South Park Elementary. Her best friend is
Jenny Grave
along with Wendy, Bebe, Heidi and Red. Laurie has brown hair with a band. She wears a purple coat with long, dark brown pants. She vaguely resembles Lola.
Personality and Traits
Laurie acts like a typical teen girl, worried more about boyfriends, sex, being beautiful and similar. Despite all this, she has a lot of common sense and seems to be at times more intelligent than her other friends. She is somewhat negative at times, but often hates goths. She is a bit defensive, and can get extremely aggressive and rude when it comes to proving her point.
Relationships
Jenny Grave
Main Article: Jenny Grave
L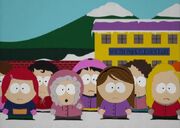 aurie and Jenny, despite conflicting personalities seem to get along well and remain best friends after several years, although their closeness has subsided a bit in the years.
Daniel Thompson
Main Article: Daniel Thompson
Although she claims to deeply hate him, Daniel and Laurie are sometimes able to get along, and it's even implied they may have a small crush on each other.
Creation
Although Laurie is an original character, her first name is inspired by Laurie Strode from the Halloween film series. Her last name, Cunningham, is taken from Sean S. Cunningham, creator of the Friday the 13th film series. She was originally created named 'Megan' by JVM