South Park character
Jeffrey "Jeff" Smith
Gender
Male
Hair
Brown
Birthday
January 27
Age
11
Job
Student
Religion
Roman Catholic
Voiced by
Eric Stough
Appearances
First
Cartman Gets an Anal Probe
Jeffrey Smith is a fifth grader in South Park Elementary. His birthday is January 27. Jeff appears in South Park: 5th Grade and South Park: A New Era.
Appearance
He has brown hair, wears glasses, a blue baseball cap, a blue button-up jacket, and dark blue jeans. Throughout the show, he gets ripped on for being a nerd, mainly by Eric Cartman. Ever Since Pip was killed by Mecha-Streisand, Jeffrey has been labled to be the "New Dork of the Class". Yet sometimes they are nice to Jeff so they can have one of his thousands of video games. Jeffrey has also been labled as the richest kid in school, after Token.
Captain Nerro
In the Episode Coon 3: Coon Strikes Back he was portrayed as Captain Nerro but according to his friends, He's Captain Nerdo. His super power was crontrolling objects with his mind. Everyone in Coon and Friends tend to rip on him for being a nerd. He killed one of the Cthulhu Cult members.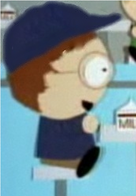 In
Go Die Four Eyes
its revealed that his parents were murdered in San Diego and Jeffrey and Ed inherited their parents fortune. His little brother Ed lives in a foster home just out side of South Park. It is unknown whether Jeffrey lives alone in his house.
Relationships
Eric Cartman
Main Article: Eric Cartman
Eric Cartman is for the most part, a total dick to Jeffrey. Jeffrey has a great hate for Cartman. Ever since Jeffrey beat up Cartman in Go Die Four Eyes Cartman tries to stay away from Jeffrey, but he still rips on him from time to time. As a run-on gag, every time Jeffrey answers a question right in Mr. Garrison's class, Cartman would always make a reference of him being a nerd.
Shane Marks
Main Article: Shane Marks
Shane Marks is very friendly towards Jeffrey. He always hangs out with him during lunch period during school. They are both one of the best gamers in the entire school, Jeffrey, because he owns every game to every game station ever made. Shane, because he is very quick when it comes to using game controllers.
Stan Marsh
Main Article: Stan Marsh
Stan Marsh for the most part is friendly around Jeffrey. Stan tends to suck up to Jeff so he can play one of hes thousands of video games that he owns.
Trivia
Jeffrey has a younger brother named Edward Smith who lives in a foster home.
Jeffrey's parents were thought to be killed by Cartman's Uncle Howard but is currently unsure.
He lives in one of the biggest houses in South Park.