South Park character
Charlie Sheen
Gender
Male
Hair
Dark Brown
Birthday
September 3 1965
Age
45
Job
Actor, Sex Addict, Drug Addict
Origin
American
Voiced by
Trey Parker
Appearances
First
"Sexual Healing"
Carlos Irwin Estevez (born September 3, 1965), better known by his stage name Charlie Sheen, is an American film and television actor. He is the youngest son of actor Martin Sheen.
His character roles in films have included Chris Taylor in the 1986 Vietnam War drama Platoon, Jake Kesey in the 1986 film The Wraith, and Bud Fox in the 1987 film Wall Street. His career has also included more comedic films such as Major League, the Hot Shots! films, and Scary Movie 3 and 4. On television, Sheen is known for his roles on two sitcoms: as Charlie Crawford on Spin City and as Charlie Harper on Two and a Half Men. In 2010, Sheen was the highest paid actor on television, earning US$1.8 million per episode of Two and a Half Men.[1] Sheen's personal life has also made headlines, including reports about alcohol and drug abuse and marital problems as well as allegations of domestic violence. He was fired from his role on Two and a Half Men by CBS and Warner Bros. on March 7, 2011.
Appearance
Edit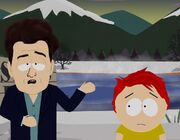 Charlie Sheen first appeared as a sex addict in "Sexual Healing" along with Tiger Woods, Bill Clinton, and Butters and Kyle. He also appeared on "Poor and Stupid" when Cartman was watching Two and a Half Men. He appeared in
South Park: A New Era
when he a getting extremely addicted to drugs and Andrew and Kenny go and help him to get over his addiction.